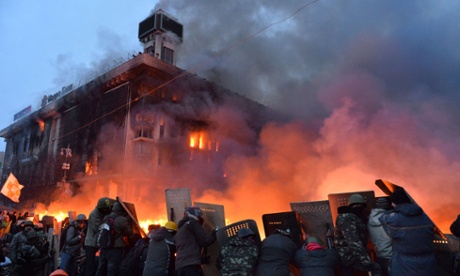 Protesters protect themselves behind shields as they clash with police on Independence Square in Kiev early on Wednesday. Photograph: Sergei Supinsky/AFP/Getty ImagesThe bloodiest night in independent Ukraine's history left at least 25 people dead and more than 500 injured, after further violent clashes in the centre of Kiev.Armed riot police clashed with protesters armed with clubs and molotov cocktails as they tried to take back Independence Square, the hub of the protests against President Viktor Yanukovych's government over the past three months. By morning, they had taken back about a third of the square, which has become a scene of charred devastation.
The health ministry said 25 people were dead, including nine police officers.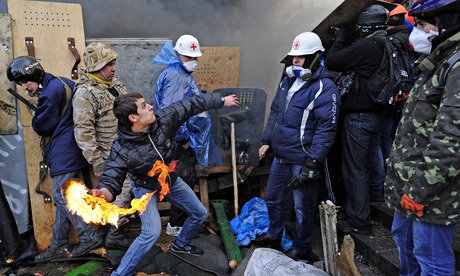 Protesters clash with police in Independence Square in Kiev. Photograph: Alexander Koerner/Getty ImagesYanukovych said that the political opposition leaders had "crossed a line" by not condemning the violent protests, and spoke of stark consequences for them if they did not distance themselves from the violence.
"I again call on the leaders of the opposition … to draw a boundary between themselves and radical forces which are provoking bloodshed and clashes with the security services," said the president in a statement. "If they don't want to leave [the square] — they should acknowledge that they are supporting radicals. Then the conversation with them will already be of a different kind."
Crowds have occupied parts of Kiev for nearly three months, with the focus on Independence Square, a huge space right in the centre of the capital. Previous attempts by the authorities to clear the square with riot police used enough force to radicalise the crowds and energise theprotest, but not enough to disperse them entirely, and over time the tents, barricades and fortifications have become more entrenched.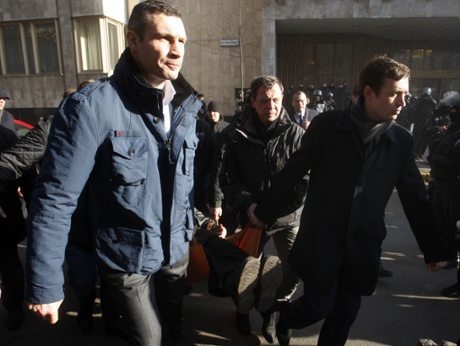 The head of the opposition Udar or Punch party, Vitali Klitschko together with protesters carry a wounded man during clashes with riot police in Kiev on Tuesday. Photograph: Yury Kirnichny/AFP/Getty ImagesOpposition leader Vitali Klitschko walked out of a meeting with Yanukovych late on Tuesday night. He said he had asked the president to stop the advance of riot police, but that Yanukovych had told him the only option was for protesters to abandon the square and go home.
"We will not go anywhere from here," said Klitschko, speaking to crowds from the stage as tents and tyres were in flames around him. "This is an island of freedom and we will defend it."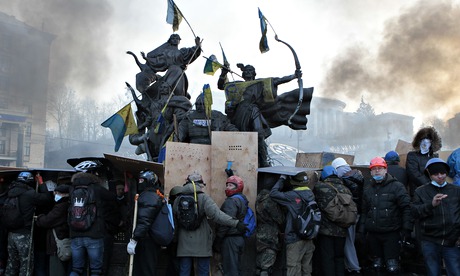 Protesters protect themselves with shields during clashes. Photograph: Sergei Chuzavkov/APTwo of Ukraine's powerful oligarchs issued statements condemning the violence, including Rinat Akhmetov, long a close associate of the president.
"Human losses and injuries suffered by protesters and law-enforcers during street clashes is an unacceptable price for political mistakes," said the oligarch in a statement. He called on all sides to negotiate.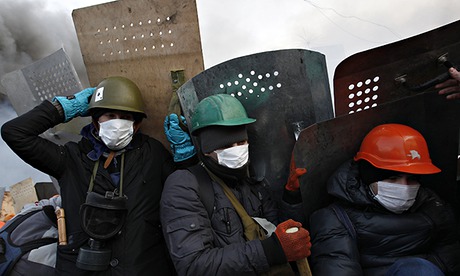 Protesters take cover behind shields in Independence Square in central Kiev, Ukraine Photograph: David Mdzinarishvili/ReutersThe White House said it was urging Yanukovych to stop the violence. US Vice-President Joe Biden spoke with the Yanukovych by telephone, while the French foreign minister, Laurent Fabius, threatened sanctions.
Sweden's foreign minister, Carl Bildt, said that Yanukovych was responsible for the bloodshed in Kiev.
"We must be clear: ultimate responsibility for deaths and violence is with President Yanukovych. He has blood on his hands," Bildt said on Twitter.
"Hoping for strong unity in parliament today against violence and repression in Ukraine. People are being shot to death on the streets of a European capital."
Protesters are wounded after the clash with police in Kiev. Photograph: Oleksandr Ratushniak/AFP/Getty ImagesFabius said that EU sanctions were likely to be imposed on individuals responsible for the violence, although he did not say who he believed was responsible.
"We are not going to remain indifferent. France intends to act," he said. "There can be a range of sanctions, notably individual ones against those behind the violence … Those responsible cannot remain unpunished. We'd like to work with the Germans on the idea of sanctions at EU level," he added.
The initial trigger for the protests was Yanukovych's decision not to sign an EU association agreement in favour of Russia, and the Kremlin's promise of £9bn ($15bn) of loans to help Ukraine.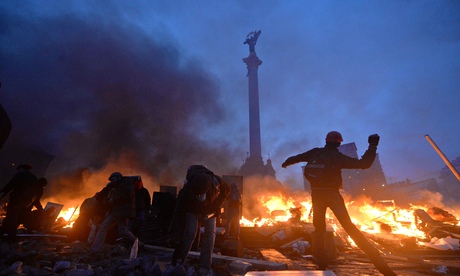 Protesters clash with police in Independence Square early on Wednesday 19 February. Photograph: Sergei Supinsky/AFP/Getty ImagesThere was no immediate comment from the Russian president, Vladimir Putin, on developments in Kiev, but the Russian foreign ministry called on Ukraine's opposition leaders to "stop the bloodshed" and "immediately resume dialogue with the lawful authorities without threats or ultimatums".
Putin's press secretary, Dmitry Peskov, said that the Russian president and Yanukovych had spoken by telephone on Tuesday evening but did not say what they discussed. He added that the Kremlin blames protesters for the violence.
"The president believes that all responsibility for what is happening in Ukraine now lies with the extremists," said Peskov.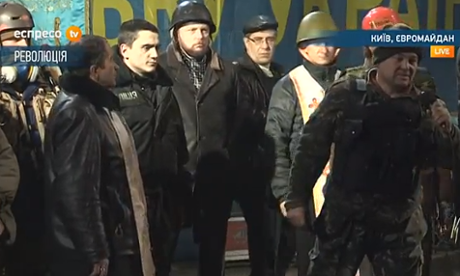 Protests leaders address the crowd in Independence Square, Kiev. Photograph: /Espreso TVIn recent weeks, the Kremlin has urged the Ukrainian authorities to crack down on the protesters in thinly veiled language, while Russian state television has frequently referred to them as "terrorists" or "insurgents". However, a crackdown was not expected during the Sochi Olympics.
In Sochi, the pole vault legend and the chief of the Ukrainian Olympic Association, Sergei Bubka, said he was "shocked" by events in Ukraine and called on both sides to compromise.
"I am once again urging all parties to stop the violence which puts our country on the brink of catastrophe," he said.